I Love Hearing What Others Have To Say...So Leave a Comment:
Yeezy Tell Me Them Not Dem Same Damn Pants From Yessday!
(Noris is adorable..Kim Black does nothing for you)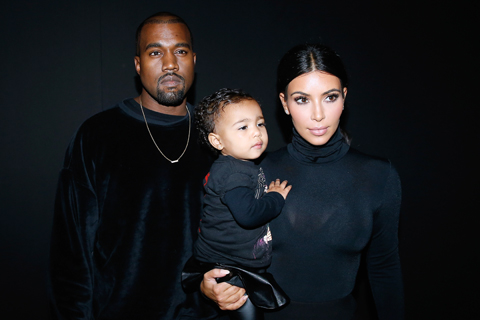 (Kanye, Kim and Nori Head to Balenciaga Show @Paris Fashion Week)
I think it's adorable when they travel as a family, Nori and Blue Ivy will learn to be the best of friends. I think its so cute that they'll both will be equally well traveled.
They make the most cute awkward family. Wiz & Amber could only wish they could pretend to be just as happy. They remind me of an Eclectic Adams Family of todays time. They got them an adorable Wednesday now they need a Pugsly.
Kim looks cut right here..Like an Armenian Barbie and a Black Kendrick.
I think it's cute Nori is such a lady. She knows how to sit still and behave. I'm still upset with these damn arrows in Kanye head.. But he makes em look fly. He really likes the candid look/ Kim cant help but look towards the camera.