I Love Hearing What Others Have To Say...So Leave a Comment:
Ya girl Rihanna spotted out in London this weekend. This past week she was an Executive Producer for HOH (House of Holland) fashion show for Londons Fashion week..
Loving the London Look Rihanna. Amid reports of her and ex-boyfriend Chris Brown being back together.. Rihanna's been doing the damn thing.. She has her first movie she's starring in this year "Battleship" release date of 05/12/2012. I'm excited for her and hope that the press she's been getting lately helps with encouraging ticket sells.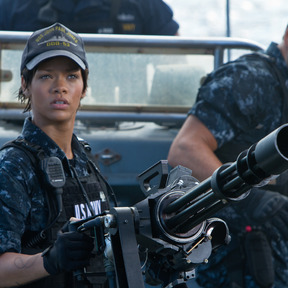 ON SET OF "BATTLESHIP"
Read What Karrueche Has to Say about the Chris Brown Rihanna Rumors
TMZ.Com Reports
Lost in all the
Chris Brown/Rihanna
possible reunion madness is the fact that CB has a serious girlfriend -- and sources close to her tell TMZ the two of them are doing quite well in their relationship .... thank you very much!
Sources close to
Karrueche Tran
tell TMZ she is unfazed by the recent rash of RiRi
rumors
. In fact, we're told CB and KT are now actually living together.
As for CB showing up to
Rihanna
's
birthday party
, we're told that didn't bother Karrueche either ... because he came home to her that night and whisked her to Miami the next day to celebrate
Valentine's Day
.
According to our sources, Chris professes his love to Karrueche daily and he has no plans to leave her for Rihanna.
Almost makes you say, "Awwww" ... until you remember ...